Everyday fitness for all walks of life
Getting fit safely and effectively is all about knowing what your body needs and developing a tailored regimen that can help achieve those goals. At Helix Training, we focus on helping our members build basic skills that allow for everyday strength and set the foundation for improved health both now and into the future. Smaller class sizes allow for more individual attention by instructors that keeps our members on track.
"As a Doctor of Physical Therapy, I have seen my share of patients who have suffered injuries through improper training. The goal of Helix Training is to focus on everyday, functional fitness, and build skills to avoid those injuries no matter if you are an elite athlete or a weekend warrior."
Strength Training
Squat, hinge, push, pull, and carry are the core movements that form the strength training at Helix Training. In addition to these movements, classes will cover the following:
Mobility & Flexibility & Warmup
Core Strength & Stability
Power
Strength
Conditioning
Strength +
Functional strength training for those who have accumulated wisdom of over 60+ years. We incorporate balance training into the workout. You can expect a full-body workout with every class.
Athlete Training
Designed for athletes of all skill level aged 13-21 to make the athlete stronger, faster, quicker on their playing field. Training programming will include strength, plyometric and agility training.
Trade in Pain for Performance
Our classes are all taught by Certified Functional Strength Coaches (CFSC). Each session is designed to improve functional strength to help you with everyday tasks like lifting heavy items up to a shelf, carrying that bulky item in from the car, or strengthen your quadriceps muscles to prepare for ski season.
Alisha Carlson
Alisha is an accredited coach in functional strength and nutrition. Boasting over a decade of industry experience, she has transformed from a self-declared couch potato into a figure competitor. Now, comfortably settled at a happy medium, she guides her clients towards achieving the same balance.
Layton Kirsch
Layton, a functional strength coach with half a decade of experience, champions the idea that exercise should be a source of joy, not an obligatory task. He argues that people should desire, not feel compelled, to work out every day. His mission is to help instill this perspective, making exercise an enjoyable endeavor for everyone!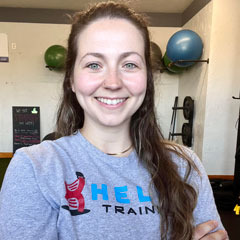 Maya Trajkovski
Maya, a Kinesiology PhD student at OSU, has been a strength coach since 2018 and a yoga/dance instructor for a decade. Her research aims to counteract shame-driven exercise motivation. Maya's mission is to promote a positive exercise mindset and foster a supportive, welcoming training community. She believes exercise is more enjoyable with friends!
Ready to Make a Change?
Are you ready to commit to your health and fitness with a program that is personalized and designed around your goals? Sign up for a class to try us out or send us a note to get more information.
Address
2323 NW 9th Street
Corvallis, OR 97330