Meet Our Trainers
Our training staff is here to make sure that you have an amazing experience every time you visit. They are committed to helping you meet your fitness goals.
Alisha Carlson
Alisha is an accredited coach in functional strength and nutrition. Boasting over a decade of industry experience, she has transformed from a self-declared couch potato into a figure competitor. Now, comfortably settled at a happy medium, she guides her clients towards achieving the same balance.
Layton Kirsch
Layton, a functional strength coach with half a decade of experience, champions the idea that exercise should be a source of joy, not an obligatory task. He argues that people should desire, not feel compelled, to work out every day. His mission is to help instill this perspective, making exercise an enjoyable endeavor for everyone!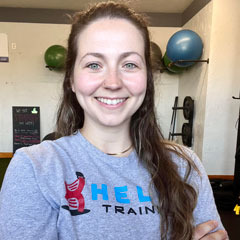 Maya Trajkovski
Maya, a Kinesiology PhD student at OSU, has been a strength coach since 2018 and a yoga/dance instructor for a decade. Her research aims to counteract shame-driven exercise motivation. Maya's mission is to promote a positive exercise mindset and foster a supportive, welcoming training community. She believes exercise is more enjoyable with friends!
Kathy Lynch
Dr. Kathy Lynch, PT, DPT, is a physical therapist and proprietor of Motus Physical Therapy NW. Her journey into the realm of rehabilitation and strength training began with a knee injury that ended her college basketball season. Through strength training, she has effectively kept her old injury-related pain under control. She is driven by the desire to help others alleviate pain by enhancing their strength. Besides her Doctorate in Physical Therapy, Dr. Lynch is a Certified Functional Strength Coach. She meticulously tailors each training session at Helix to optimize strength and avert injuries. When she steps out of the gym and clinic, she enjoys golfing and following all University of Notre Dame sports. Dr. Lynch resides in Corvallis with her partner, Inga Zasada, and their two dogs, Rudy and Agnes.
Ready to Make a Change?
Are you ready to commit to your health and fitness with a program that is personalized and designed around your goals? Sign up for a class to try us out or send us a note to get more information.
Address
2323 NW 9th Street
Corvallis, OR 97330